Allergies and problems in breathing occur when your airway is narrowed or inflamed. You might complain of your chest feeling heavy, cough, wheezing, shortness of breath and even tightness. Thousands of germs and infections are roaming around in our space, our home, and we don't see it. We don't take the right action because we don't see the germs and bacterias through our eyes.
The mattress is the most used one and is attacked by germs and bacterias the most. Do you know it is important to think of mattress cleaning four times a year? According to a survey conducted by the American Council on Science and Health, mattresses can have about 10 million dust mites. So mattress cleaning becomes a quintessential job, and people need to think of it at the earliest. The more you delay it, the more it impacts your health which is the last thing you want.
Can Mattress Cleaning Reduce Allergy?
Moulds are a source of creating allergy, as it creates spores that live in your mattress and a little moisture can let them grow. The more the moisture, the more it grows, spreads and blooms. With the deep cleaning method, you decrease the allergen content of your mattress. If your mattress is loaded with allergens, you will for sure deal with breathing disorders and worse. Deep mattress cleaning solutions are the last resort and the only way to get rid of germs. With this, fewer allergens mean you don't deal with breathing issues anymore. Cleaning can also help reduce the unwanted odor of the mattress. As a result, you get healthy and comfortable sleep, along with a mattress that is as good as new!
How Does an Old Mattress Affect Your Health?
Mattress cleaning wasn't even a word in the past, and it is often ignored to date. Even with the mattress being bad, dangerous and untidy, house owners think washing will do the magic. Imagine you spend 1/3rd of the time laying like a baby on your bed.  You want proper sleep, comfort and mattress quality is directly proportionate to your sleep. Irritability and discomfort are way too high in sleeping on an old and unhygienic mattress. It also increases your stress level, and you might feel distracted and lazy all day long.  As you spend a significant amount curled up in your mattress, you shred dead skin. The dead skin won't be visible through your naked eye, but it is present on your bed, and the Bacteria are all over it. So getting rid of the mattress is the only option you'll have once it starts to stink, fade and lose the charm.    But, when you consider mattress cleaning, there is no way you have to worry about mattress changing. Getting rid of a runny nose, sore throat is possible with a safe and deep cleaned mattress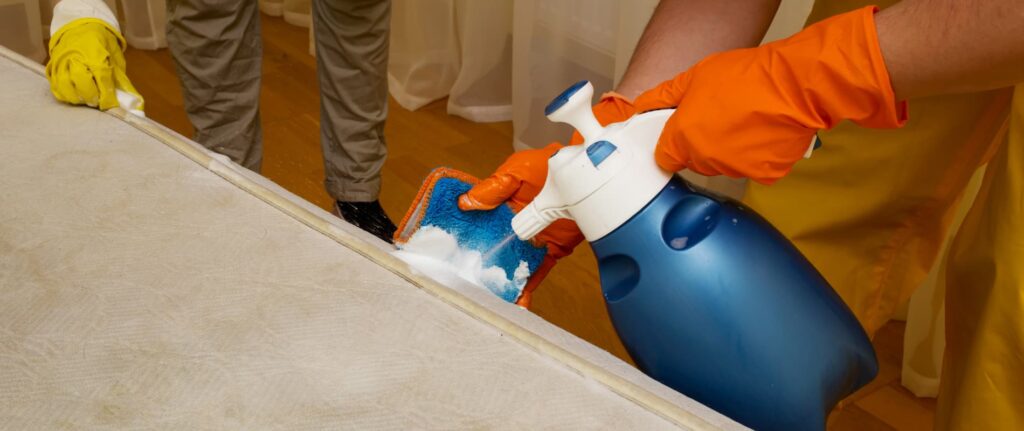 What are the different supplies used in Mattress cleaning?
You might be wondering that your mattress cleaning is DIY! The good news is, yes, you can do a normal mattress cleaning, and it is easier than you think. However, if you wish to have a deep cleaning experience, calling a mattress cleaning company makes more sense. They have the right resources and the knowledge to clean the type of mattress you owe. But first, to give a DIY mattress cleaning, get your hands on:
You can think of doing DIY, but remember, you won't do it professionally. It will only help you remove the dirt and stain that is visible.
Is it recommended to vacuum the mattress of your bed?
Vacuuming a mattress can be a good and healthy option to keep dust and particles away. It is ideal for dealing with dust mites, dried skin and alot more that is left on it. Dust mites are the common source of allergic reactions in about 10 percent of adults. Vacuuming your bed will result in a safe and healthy place to sleep on. However, it is not as effective as the deep cleaning method. In addition, vacuuming won't let you get rid of bedbugs, bacteria, infections and more.
Why hire a professional mattress cleaning company?
Total dust removal:
Simple vacuum won't fit your vivid deep cleaning mattress needs. Vacuum is only designed to remove visible particles, like dust, dirt, debris. A professional cleaning solution ensures your mattress is deep cleaned, removing all germs, Bacteria and harmful substances.
Quality remains prominent
Your mattress quality will deteriorate the more you avoid cleaning it. But, with professional help, they use the right too right washing resource as well. It keeps your mattress tidy, healthy as well as completely safe.
Stain removal:
You might notice some stubborn stain, well a professional company can treat it. They will know the proper way of removing not just stain but odor too. So you don't have to worry about the charming looks of your mattress; you will get it back with cleaning.
Keep Allergy Away
Your allergy and infections are triggered due to the harmful particles in your mattress. They breed, spread and cover up the entire mattress. With the help of thorough cleaning, you ensure all of it is removed from its root. Deep cleaning is a specialized treatment that mattress cleaning companies use.
Consider Mattress Cleaning as a Part of your Life!
Cleaning your mattress regularly is a strategy to kill mites, Bacteria, germs and keep all of it away. It also reduces your chances of suffering from allergy, plus keeps you healthy and fit. Bedtime is the most crucial time of the entire day since you relax after the chores. You deserve a healthy and happy sleep and not something that deteriorates your health. Asthma and allergy can be managed with a deep cleaning solution. It reduces your allergens, and you don't inhale fungus, mites, spores or any other harmful debris anymore.